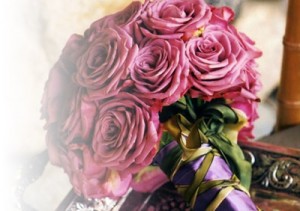 Flowers are one of the main decorations of the wedding day! They will help to create a festive and romantic atmosphere & will highlight all the solemnity of such a special event. Our florists would be happy to make for you a variety of flower arrangements: from bridal bouquet to cars & venue design, so the celebration will be according to your wishes and style of the wedding.
Any flower arrangement is always selected individually to visually emphasize the natural beauty of the wedding couple and create a romantic mood and of course do not forget about the wedding traditions!
We are happy to present you a variety of options of the wedding bouquets divided by price category. The price always includes the boutonniere for the Groom.
Because many of the flowers are seasonal (at the gallery such bouquet is marked as «Seasonal Bouquet»), please, always contact us, to confirm the possibility of creation of the desirable bouquet at the exact date. When the bouquet is chosen, please, give us the number of the bouquet and the name of the gallery.
Fancy collection — 75 €
Premium collection — 85 €
De Luxe collection — 95 €
Royal collection — 110 €
Please note that you can also
send us
the desired bouquet or decoration and our florist will make the calculation of the price. Or, according to your wishes and comments we ourselves will find you the bridal bouquet and decorations.