Wedding in Prague from 850 EURO

Wedding in Prague now is available for everyone!We prepared the packages for any taste! Compare the prices on the packages and choose the place of the ceremony!
more…

Wedding in CHURCH for Non-religious couples

If you are NON-RELIGIOUS couple, but still want to get married in the CHURCH — we have a SOLUTION!

New wedding venue:
Alchymist

A great alternative for your wedding in Prague can be the Mirror Hall at Alchymist Grand Hotel & Spa in the heart of Prague!

NEW:
Package Ultra All Inclusive

Airport transfer, limousine, photo, video, excursion, hair dress, make up & the bouquet — all this & more is waiting for you in case of order the Ultra All Inclusive package!

TOP 10 popular wedding
venues in CZ

According to the statistics of 2022, we prepared for you TOP 10 popular wedding venues in the Czech Republic.

Book your wedding for 2023!

If you have decided on the wedding location, hurry up to book a wedding date!
You can't choose your wedding venue?
Have a look on videos of our couples!
Welcome to the wedding paradise!
One of the most amazing places for winter wedding in the Czech Republic is Hluboka Castle. This particular castle is made from white stones and in combination of snow it is just more amazing! Our fabulous couple Diana & Igor … Читать далее →
Опублоковано: 12.3.2017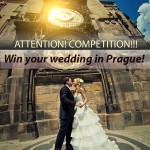 Dear Brides and Grooms! For the tenth anniversary of our company, we decided to organize a Competition that will allow you to win your wedding in Prague in 2017. To participate, you must: 1. Subscribe to our page in Instagram: … Читать далее →
Опублоковано: 28.10.2016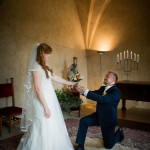 Замечательная свадьбы Сергея и Екатерины была проведена 15 июня в замке Карлштейн. Солнечный теплый солнечный денек радовал молодоженов и их гостей. После церемонии ребята предались фото сессии на территории замка, а после отправились в Прагу, где также запечатлили счастливые моменты … Читать далее →
Опублоковано: 14.11.2013