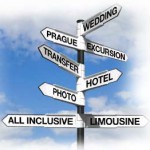 Dear Brides and Grooms !
We are happy to introduce the exclusive wedding offer : Wedding Packages Ultra All Inclusive!
Based on our experience and statistics, we came to the conclusion that every couple who is getting married in the Czech Republic is almost always chooses the same additional services: airport transfer, limousine — as a wedding car, photo, video, excursions, hair dress, make up and the wedding bouquet. So we decided to facilitate your work, creating for each wedding venue the Ultra All Inclusive package, which already includes all above mentioned services!
We will provide you with the most skilled hair and make-up artists, will take you on a tour to the most wonderful places of Bohemia, memorize your wedding day on pictures and video, will provide you with the best car and the bride's bouquet!
You can compare prices for the packages here!
Hurry up to book your unforgettable wedding in the Czech Republic !