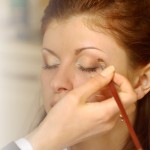 It is no secret, that the Bride on the wedding day attracts a lot of attention, so it's important to choose the right combination of the wedding hairstyle, wedding dress, jewelry, wedding bouquet and wedding make-up. First of all, everything mentioned above in addition has to emphasize the natural beauty of the Bride.
Our experts will advise and pick up the best option of the wedding hair style and make-up or will make previously selected hair dress and make-up that will create the desired image of the Bride. For your confidence in hair style and make-up flawless performance on the wedding day, you can also have the trial hair dress and make-up before the wedding. Repetition is usually held in the beauty salon, where you can carefully discuss all possible options with our excellent specialists. They will help you to create an image of the Bride — a charming and unique, the most beautiful in the world, in which you will see your future husband on the day of your celebration!
On the wedding day, our specialists will come to your Prague's hotel, so you will not have to move any way and hurry up, everything will be done on time! On the day of the celebration wedding hair dress and make-up takes from two to three hours. Duration of work depends on the length and complexity of the selected hair style.
Our advice: if you already have a selected option of hair styles, please send us a photo of it or bring it with you to Prague. It is also desirable to have with you the photo of the wedding dresses and the wedding bouquet.

We can also arrange appointments for:
Spa Packages
Body Wraps
Hair treatments
Waxing
Manicure and pedicure
Fake lashes
Tanning
Thai massages
Please note:
For more information and prices please inquire with Cosmopolites' Wedding Agency.